In Greece at the Time of Great Idea (1909-1920)
While Greece was undergoing a powerful revival of irredentist visions, Kazantzakis attempted to arrange his life along normal lines. In April 1910 he settled in Athens, and shortly afterwards began living with Galatea, who he married eighteen months later.
The problems of how he was to earn a living remained acute. Kazantzakis turned down an appointment as Secretary in the Ministry of Education, trying instead to make an income as a translator or through involvement in various business ventures. During the Balkan Wars he enlisted as a volunteer and served in the private office of the then Prime Minister Eleftherios Venizelos.
A new round of spiritual enquiry began when he first met Sikelianos in 1914. The two friends studied and toured Greece together. From the autumn of 1917 up until January 1919, Kazantzakis lived and travelled in Switzerland . Shortly after his return to Greece, he was appointed Director General in the Ministry of Welfare, working to repatriate the Greeks of the Caucasus.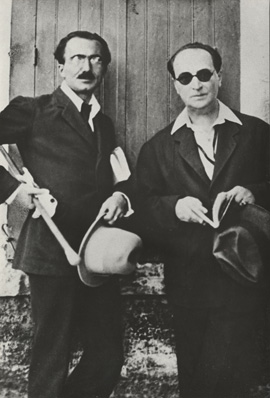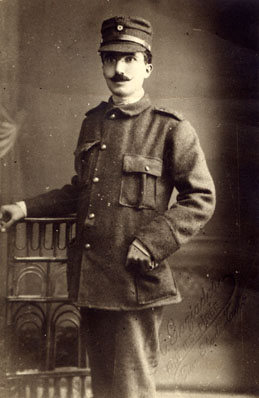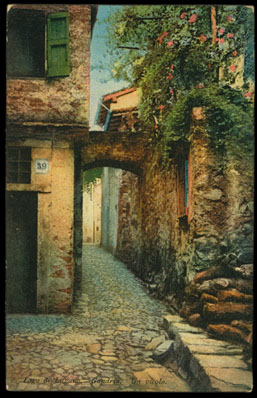 ---
Athens
In Athens, Kazantzakis played an active part in intellectual life. He was one of the founding members of the Educational Society (1910) and became an associate of the Social and Political Science Society (1916). In May 1910 he submitted Sacrifice to the Lassanis Drama Competition and won first prize. The play was published as The Master Builder, dedicated to "Ida" [Ion Dragoumis]. In 1916 it was adapted as a "musical drama" by Manolis Kalomiris and performed by the "Greek Music Theatre" at the Athens Municipal Theatre.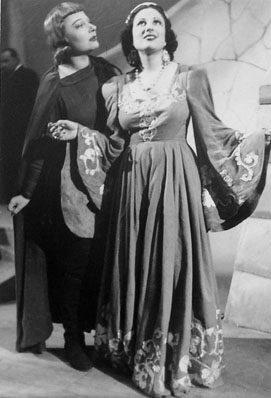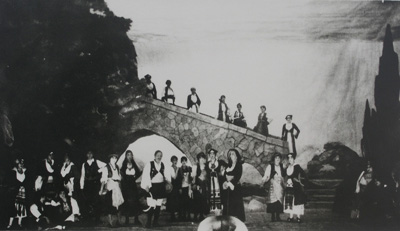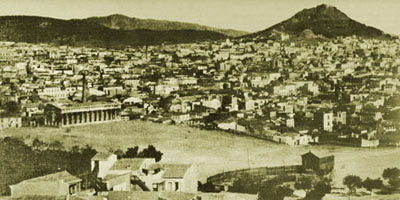 ---
The marriage to Galatea
Nikos and Galatea's decision to live together provoked reactions from both of their families. Having spent their summer holidays together in the village of Krasi outside Heraklion, they eventually married in October 1911. Against the wishes of Michalis Kazantzakis, the ceremony took place in the Chapel of St. Constantine in Heraklion.
Nikos and Galatea also spent the following summer in Krasi, in the company of Elli and Lefteris Alexiou, Vassos Daskalakis, Kostas Varnalis and Markos Avgeris. The marriage soon began to show signs it would not wear. The Athens Court of First Instance issued their divorce in 1916, following an application filed by Galatea.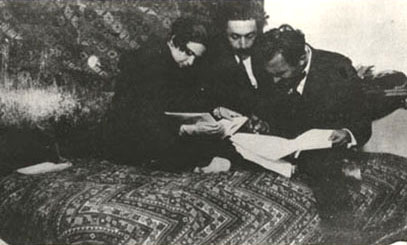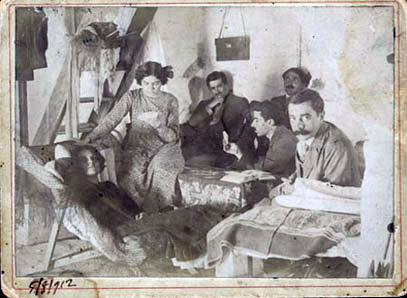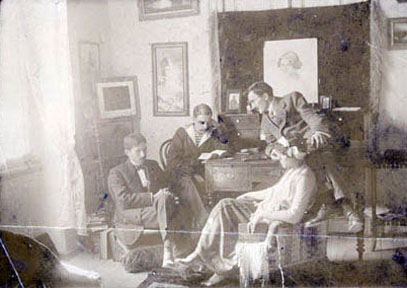 ---
Translator
In 1911 undertook a commission from Fexis publishers to translate scientific and philosophical works by Plato, Bergson, James, Darwin, Maeterlinck and others. The translations were published from 1911 to 1915.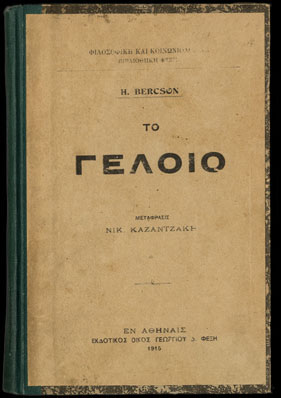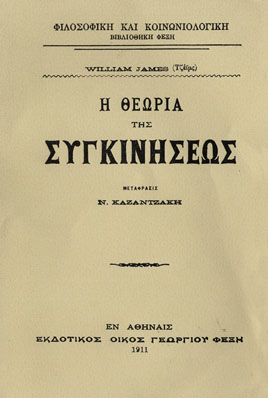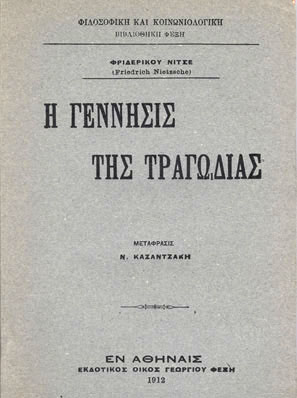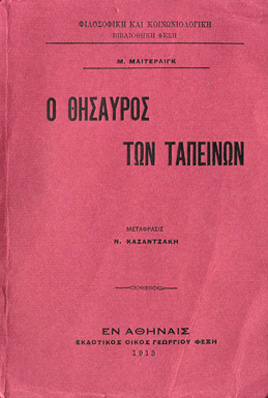 ---
Various business ventures
Kazantzakis made unsuccessful attempts to establish various businesses. In October 1915 he joined I. Skordilis in planning a company to transport lumber from Mount Athos. It was at that time that he met Yiorgis Zorbas, with whom he attempted to set up the now famed lignite mine at Prastova in the Mani, in 1917. His final venture was in 1918, and concerned an import-export business in partnership with Swiss businessmen.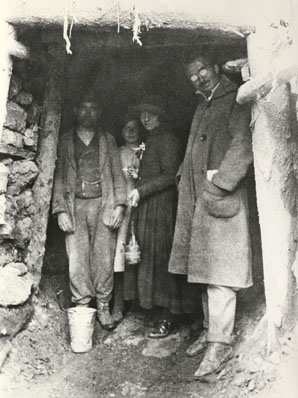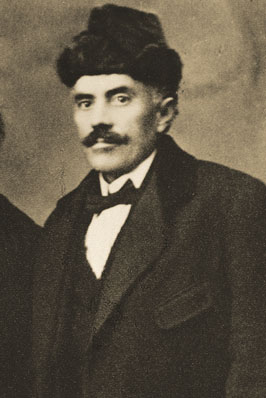 ---
Sikelianos
Kazantzakis met Sikelianos at he offices of the Educational Society in November 1914. Almost immediately, both men recognised each other as spiritual companions. Three days later they left for Mount Athos on a pilgrimage tour lasting forty days. They studied Tolstoy, Buddha and Dante, and made plans for a new religion.
Over the following years they travelled together in Greece, and Kazantzakis spent some considerable time at Sikelianos' house in Sykia near Corinth. In 1920 ideological differences caused a parting of the ways. Their friendship was rekindled in 1942, but the fact that both were candidates for the Nobel Prize led to a second cooling off in relations. Sikelianos' death in 1951 greatly saddened Kazantzakis, who acknowledged that he owed part of his spiritual makeup to the poet from Lefkada.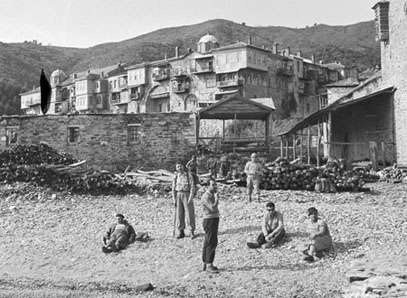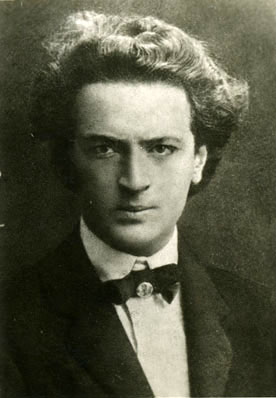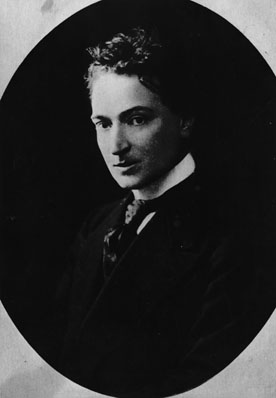 ---
Switzerland
In September 1917 Kazantzakis left for Switzerland, where he stayed as the guest of his childhood friend Yiannis Stavridakis, then Greek consul in Zurich. He travelled around Switzerland for about a year in the company of Elli Lambridi, with whom he had a relationship. At the same time, he joined forces with Stavridakis in setting up an "intellectual" organisation known as the "Order", the aims of which bore the hallmarks of Ion Dragoumis' ideology. The Order's mission was "to elevate Greece, stretching all its powers to create a new Greek culture".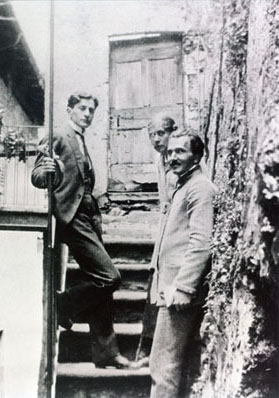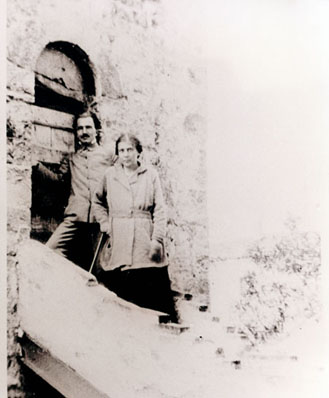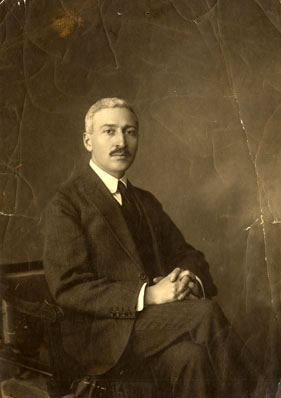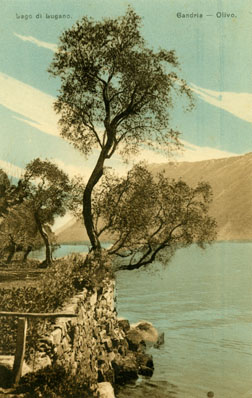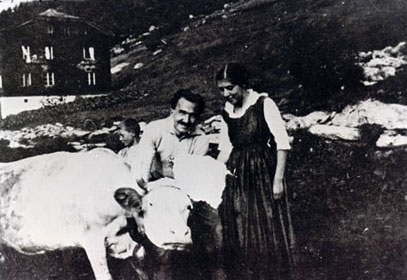 ---
Director General in the Ministry of Welfare
In May 1919 Kazantzakis was appointed director in the newly formed Ministry of Welfare, charged with repatriating the Greek refugees trapped in the Caucasus in the wake of the October Revolution.
To that end he travelled to the Caucasus as head of the mission, which included Iraklis Polemarchakis, Yiannis Angelakis, Yiannis Konstantarakis, Yiorgis Zorbas and Yiannis Stavridakis (from the Ministry of Foreign Affairs). Within the space of 15 months Kazantzakis saw to the welfare and transfer of 150,000 Greeks, whom he settled in Thessaly and West Macedonia.